Reader Dianne Mason writes:
"On a recent visit to the coast, my husband and I made our first visit to Bay St. Louis since Hurricane Katrina destroyed the city in 2005. We were ever so pleasantly surprised how this little city has rebuilt, and how it has become a destination stop, with its very artsy feel, local shops, and wonderful seafood restaurants. We had lunch at the rebuilt Trapani's on Beach Boulevard with friends. The weather was pleasant, and we sat outside under the verandah with a gentle Gulf breeze blowing. I had the Shrimp Scampi. It was the best I think I have ever had. Do you think the chef would share this recipe?"
A Bay St. Louis family favorite since 1994, Trapani's Eatery brings some of the best fresh seafood to the Gulf Coast. Owners Jolynne and Tony Trapani knew their surname was the obvious choice when pursuing their dream of opening a restaurant 20 years ago, as Trapani had been a familiar name in Hancock County for several generations. Jolynne says her restaurant was a place where Mom and Dad and the kids would pile into the car and head down to Old Town Bay St. Louis to meet with grandfolks or cousins or just good friends. The whole clan would stuff themselves silly with delicious food at Trapani's Eatery, reveling in the restaurant's lively atmosphere.
Like any success story, the journey has not always been easy. Hurricane Katrina demolished old Bay St. Louis, and their beloved restaurant was reduced to rubble. Rebuilding Trapani's Eatery in downtown Bay St. Louis took six years while they operated from a temporary location on Hwy. 90, and it was an endeavor that paid off. After reopening in 2011, Mayor Les Fillengame awarded Jolynne and Tony Bay St. Louis Business of the Year, stating, it's time. The opening of a new Trapani's signaled that we're really making it.
Today, Trapani's Eatery stands tall as a beautiful waterfront restaurant made of reinforced steel and concrete with cheery green awnings and an outside eating area for those sunny Gulf Coast days. All dishes are made in-house, and along with the requested Shrimp Scampi, another customer favorite is the Charbroiled Oysters. Trapani's Eatery is excited to share both of these recipes. These dishes are sure to bring the warmth of Trapani's from the coast to your home.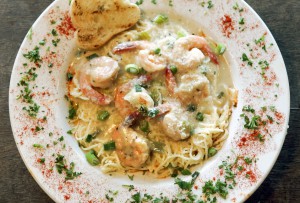 SHRIMP SCAMPI
8 to 10 jumbo shrimp
1/3 cup white wine
2 tablespoons butter
1 clove garlic
Salt and black pepper to taste 
2 tablespoons all-purpose flour
1 cup shrimp stock
1 to 2 green onion stalks, chopped
For garnish: Parmesan cheese
In skillet over medium-high heat, place shrimp, white wine, butter, and garlic, and heat for 5-6 minutes, or until shrimp are light brown. Season to taste with salt and pepper. Slowly add flour until liquid is absorbed. Add shrimp stock. Top with green onions and Parmesan cheese. Serve over pasta.
Yield: 1-2 servings

CHARBROILED OYSTERS
1 cup unsalted butter
1 clove garlic
3 tablespoons oregano
12 fresh shucked raw oysters
1 tablespoon kosher salt
2 tablespoons fresh chopped parsley
4 tablespoons grated Romano cheese
3 rounds French bread
In saucepan over medium heat, combine butter, garlic, and oregano. Place oysters on grill, shell side down. Sprinkle salt and dry parsley directly on oysters while grilling, and immediately ladle butter mixture onto oysters. Cook on grill for 6-8 minutes with grill lid off. Just prior to pulling oysters off grill, sprinkle each oyster with grated Romano cheese. Serve with toasted French bread rounds for dipping.
Yield: 12 oysters
Trapani's Eatery
115 North Beach Blvd. | Bay St. Louis | 228.467.8570
Open: Wednesday, Thursday, and Sunday, 11 a.m. to 9 p.m.
Friday and Saturday, 11 a.m. to 9:30 p.m.
Visit trapaniseatery.net for more information.