There's a lot of good food to be found in the Delta, but the Ranchero, or "the Ranch" to locals, is talked about far and wide. It was started by Nelms Mitchell and Will Joe Pearson in 1959—it was known back then as Ma and Pa's. Today's restaurant bears little resemblance to the original joint.
When it opened, it was a hangout for teenagers, a one-room rented building that featured a drive-up window. Just like kids today, their pockets were empty and Nelms began accepting credit. As IOU's piled up, Nelms realized the futility of the credit system, and one day burned them all.
Will Joe eventually moved to Texas, and Nelms became the sole proprietor, adding rooms and expanding the menu. Eventually the teenagers grew up and began bringing their families to the restaurant. Nelms bought the building in 1976 and continued expanding.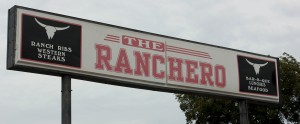 There have been setbacks, including two fires, but the Ranch remains one of the most popular barbecue places in the Delta. The hickory-smoked ribs are slow cooked and are as tender as they can be, but the barbecue that comes out of the Ranch's pit smokers is equally tender and delicious. Sides include barbecue beans, homemade bread that is baked fresh daily, potato salad, and coleslaw. This part of the menu is pretty typical for barbecue places, but the combinations are traditional because they are so very good!
Rose Mitchell, Nelms' wife and partner, insists that the steaks are just as good as the barbecue, and you can choose from a rib-eye, sirloin, porterhouse, or filet mignon, cooked just like you want it. Other favorites include gumbo that Nelms learned how to make in New Orleans, spaghetti and meat sauce, and a good selection of seafood.
Other good selections include a roast beef sandwich on French bread, a killer shrimp po-boy, five pasta options, and a kids' menu. With portions as big as they are, an appetizer may be a bit much, but if you are up for the challenge, try fried green tomatoes, dill pickles, homemade onion rings, or toasted ravioli.
The desserts are all homemade, and many praise the cakes and pies as the best the Delta has to offer. That, my friend, is high praise for a part of the world where sweet endings are a long-held tradition. There are at least nine desserts on the menu, but the selection changes. Do make sure to give the chocolate brownie scoop serious consideration.
The Ranch has grown from a one- room joint to one of the most popular restaurants in the state. The menu is a just-right assortment of favorites with a special homemade touch that is the hallmark of good Southern food. This is the sort of hometown place that is comfortably worn and friendly as can be, and the food served will be long remembered. If you have a special event, the Ranch caters parties of almost any size.
Rose Mitchell and her daughter, Chris Card, jointly own the Ranch today.
FOR MORE INFORMATION:
The Ranchero Restaurant
1907 State St., Clarksdale, 662.624.9768
www.theranchero.com
Open: Monday to Saturday, 10 a.m. to 10 p.m.