Little Wilde Norman's Mississippi heritage runs deep, as evidenced by his festive first birthday party. Location was key, and the celebration took place at his family's farm in east Madison County on the Natchez Trace, where he and his older brother, Legend, mark the sixth generation to romp and run on the land—making for a whale of a time.
Wilde's mom, Chenoa, grew up on the farm, which has been in her family since it was petitioned from the Choctaw Indians in the 1800s. "It's the only place I had ever lived until I left for Ole Miss,"she says. "My mom grew up here, and there is also a family cemetery, where my grandparents, greatgrandparents and great-great-grandparents are buried. It's an amazing and sentimental place."
Before Chenoa was a mom, her father built a stunning cedar arbor, knowing that one day she would have some fun birthday parties there. "My great-grandmother planted all of these beautiful oak trees that now grace my parents' lawn," says Chenoa. "My dad has basically turned the place into his own version of Neverland for his grandkids. He's spent a lot of time making it perfect. From hunting to fishing one of the four stocked lakes to riding horses or four wheelers, or just lounging by the pool, it was an amazing place to grow up and have fun. It was also a wonderful place to have a first birthday party for a special little boy!"
Chenoa settled on a theme of whales and sails for Wilde's first birthday party. "Never in a million years did I think I'd be obsessed with whales, sailboats, trains, and dinosaurs," she laughs. During the Norman family's relocation from New Orleans to Destin, Chenoa began planning the playroom theme for their new home, incorporating water and nautical elements like sailboats. "I loved it so much that I decided it would be a great theme for a birthday party."
Chenoa found two coordinating fabrics; one with whales and one with sails, and ideas started rolling. "Whether I'm decorating a room in my house or planning a party, it all starts with finding a fabric I love," she explains. "Because I'd started designing the boys' playroom in this theme, I just used a lot of the accessories for the party—two birds, one stone!" Pillows were made from the themed fabric and placed around in Adirondack chairs for guests to lounge comfortably.
Both Wilde and his brother Legend wore outfits made from the inspiration fabrics. "My husband Josh wore a vintage anchor tee, and I wore a cute anchor tunic and a big starfish headband," says Chenoa. "These days, it's fairly easy to 'match' your family without being too cheesy!"
Like any good party, the cake served as the showstopper, with ocean waves and a charming sailboat. Wilde's smash cake featured a fondant whale and rope. The Cake Diva, Maria de la Barre, made both cakes. "I am a very detail-oriented person, and Maria is so wonderful at taking my vision and perfecting it," says Chenoa. "Plus, her cakes taste amazing!"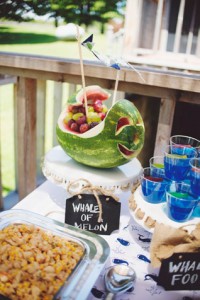 Chenoa pulled navy and Kelly green colors from the fabric and incorporated them throughout the party details. "It's amazing what bunting can do for a party," says Chenoa, who utilized burlap bunting along with the nautical theme. She even used a miniature bunting on a whale-shaped watermelon filled with juicy grapes.
Drinks were served in old-fashioned milk jars, reminiscent of days gone by at the family farm. Guests sipped "ocean water"—a mix of lemonade and blue raspberry Kool-Aid— through striped paper straws adorned with paper whales. Party guests munched on a kid-friendly menu of chicken nuggets, pasta salad, goldfish, Swedish fish, and homemade pimiento cheese served with crackers. Guests left with favors of whale- and sailboatshaped crayons in hand-painted muslin favor bags, whale-shaped sugar cookies, and chocolate lollipops.
"It was a gorgeous Mississippi day, I was watching my sweet little guy laughing and playing at his party, and it was a great feeling, as I knew our loved ones from the past were watching over us," says Chenoa. "It really struck me how much of our family history these hills hold. We were celebrating another generation."
BY AMANDA WELLS | PHOTOS BY ALL OURS PHOTOGRAPHY