Our readers are personally involved with our advertisers. It's why we call our advertisers "family."
DOWNLOAD OUR MEDIA KIT
Mississippi Magazine offers affordable rates with statewide visibility for as little as $495.
Request a Contact
No other lifestyle publication in the state can boast our distribution statistics or reader loyalty.
DOWNLOAD THE MEDIA KIT
What our Customers are Saying:
"I keep a copy of every ad I place in the magazine by the telephone, because the day the magazine comes out, I start getting phone calls."
Judy Lee (Judith Lee's, Ridgeland)
"Mississippi Magazine has proven to be a great advertising venue. We have people from all over the South call and inquire because they saw our ad in Mississippi Magazine. Even an article written three years ago still gets response—now that is what I call effective! We love Mississippi Magazine!"
Karen Bollinger (Bollinger Family Theatre, Bruce)
"By placing ads in Mississippi Magazine, not only do we reach people in Mississippi, but we have also expanded our customer base to out-of-state customers in Alabama and Tennessee. We have shipped many gifts out of state for customers who saw our ad in the magazine."
Margie McGee (4450, Ridgeland)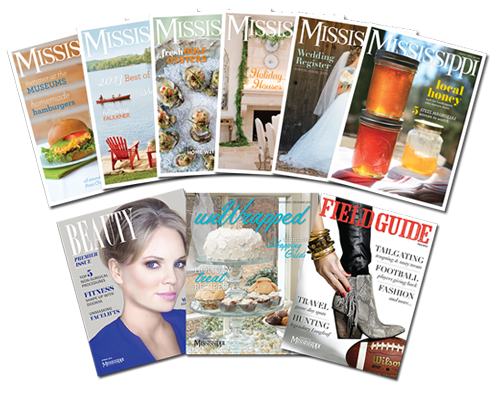 ADVERTISE WITH US!
We have lots of ways to showcase your products and services in print, in our digital issue, and in social media. Let us help you grow your business!
If you have spoken with a representative, please click on their name below to email them, or you can call them directly.
Jane Foster | 601.613.3304
Allison Lunsford | 601.842.6255
Libby Garland | 601.594.3852
Mary Jane Meyer | 601.842.6255
If you have not already been contacted, please click here.